It's been about seven years since I started keeping a sleep log, and nearly two years since I started using my Apple Watch.
This time around, I thought I'd write about AutoSleep, an app I've been using since I first got my Apple Watch, and discuss the argument that I might not need it anymore. This is as much for my own thought organization as anything else.
In essence, I'm starting to wonder if the standard Health app on my iPhone isn't sufficient for tracking my sleep. Is there really any need for an additional app like AutoSleep?
Reason #1: Apple Watch Now Captures Ample Sleep Data On Its Own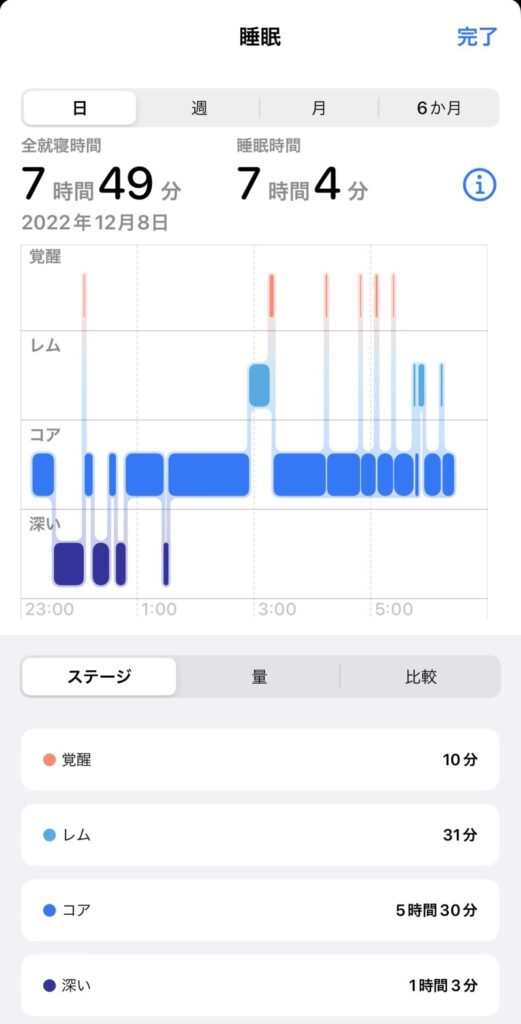 Ever since the introduction of WatchOS 7, Apple Watch has offered a rudimentary sleep tracking feature, though it lacked detailed analysis. As a result, using a third-party app was a necessity.
However, starting with Watch OS 9, in addition to the previously available sleep and wake duration data, other aspects such as sleep stages, sleep volume, heart rate, and respiratory rate are now being analyzed.
Depending on the settings, by default, the SpO2 value, or the blood oxygen concentration, can also be measured during sleep. At least for me, this is a sufficient amount of information to be added to the Health app daily.
Due to these changes, the benefits of using a third-party app have relatively decreased. As a result, I've started to think that it might not be such a bad idea to uninstall AutoSleep.
Apple Watchで睡眠を記録する – Apple サポート (日本)
Reason #2: Mysterious Metrics and Analysis Functions in AutoSleep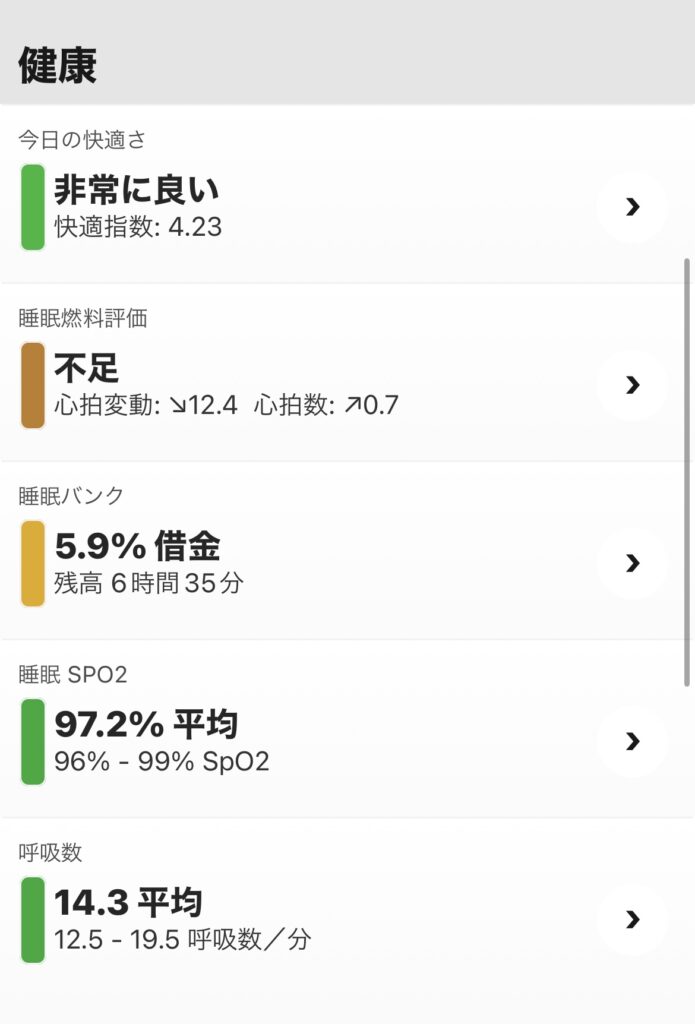 "Comfort Level Today"
According to AutoSleep's description, it supposedly analyzes your mental and physical state from your heart rate variability and heart rate upon waking. However, to be honest, I can't tell whether this has been useful to me at all.
I used to glance at it, but I didn't feel like my performance was affected on days when my "comfort level" was reported low. Eventually, I stopped checking it entirely, which may indicate that it was a meaningless metric for me. It wasn't even serving as a reference.
While this might be a data point backed by research, it's vague. It wasn't a motivating factor for me to use AutoSleep.
"Sleep Fuel"
AutoSleep's description states that "Sleep is the fuel source for your brain, body, immune system, and wellbeing. However, not all sleep refuels in the same quality."
In other words, in addition to whether the quality of your sleep was good or not, it also evaluates whether it is good quality for your activities upon waking. However, this is translated into a term that is not intuitively easy to understand.
Even in English, it's "sleep fuel", a direct translation, but I think it carries a nuance of being the source of energy to spend a day replenished by sleep. It might be more understandable with a little more creativity, like "fuel for the day". I was so misled that I thought it referred to "fuel for a good night's sleep." Aren't there a lot of people who use this without thinking too much about it? It can't just be me, right?
Now, whether this item is useful to me or not, to be honest, I hardly ever look at it either. I don't really understand how to effectively utilize it. From reading the description, I guess you're supposed to look at "comfort level" and "sleep fuel" in the morning and think, "Today's the day I can push myself!" or "I'm not doing well, so I should wrap up early and take it easy…" But I don't think that's very meaningful.
Possibly Helpful Metrics?
Sleep Bank
The "Sleep Bank" feature in AutoSleep is essentially a tracker of sleep debt. It operates on the metaphor of a bank account, giving a representation of your sleep balance or deficit in terms of deposits and withdrawals.
This feature is unique to AutoSleep and isn't available in the standard Apple healthcare suite, so it might be a compelling reason to keep using the app.
On the other hand, this "Sleep Bank" feature might be the only thing making me want to continue using AutoSleep. While AutoSleep also tracks things like respiration and SpO2 during sleep, these are recorded by the Apple healthcare app as standard, so there's no need to see them in AutoSleep. These metrics might potentially be useful for detecting conditions like sleep apnea, but as it stands, I've found no practical use for them.
Reason #3: The Annoyance of Manual Corrections when Idle Time is Counted as Sleep (Despite Avoidance Settings)
There are times when the app interprets periods of extended stillness, such as when I'm sitting and reading or watching a movie, as sleep. This is especially likely when I'm engrossed in a movie or a book. And to be honest, constantly having to adjust my sleep data in the AutoSleep app every time this happens can be a hassle.
When I take a nap, the app tracks that perfectly fine, which is a handy feature. However, it can be rather annoying when it interprets random periods of inactivity during the day as sleep.
While you can avoid this by setting AutoSleep not to track sleep during certain hours, I question whether the hassle is worth the benefits of using the app. After all, this means you lose out on the benefit of having the app automatically detect irregular sleep patterns, like naps.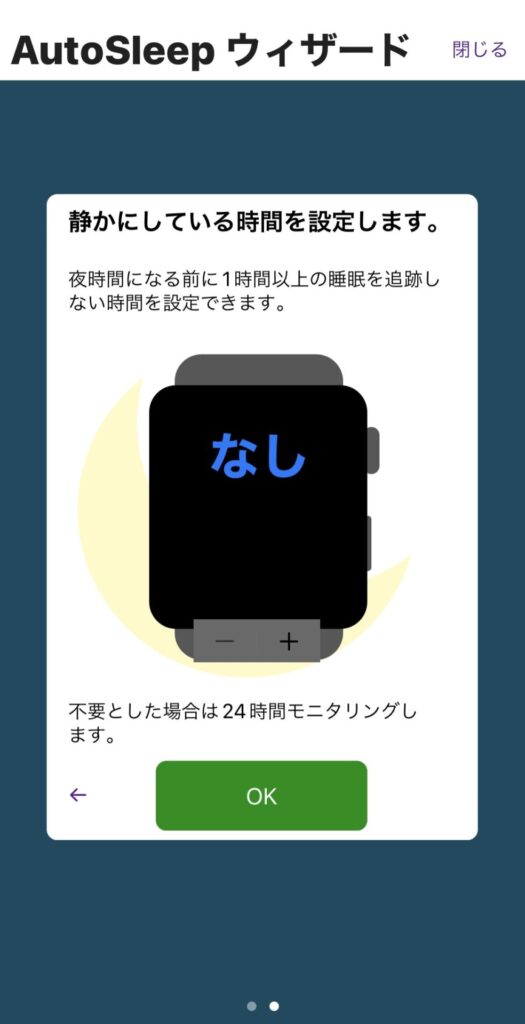 Furthermore, if running AutoSleep in the background all the time significantly drains the iPhone or Apple Watch's battery, then it would be best to delete AutoSleep.
I can't be certain about the specifications of the standard features of the Apple healthcare app, but I think it probably doesn't count as sleep unless you're in sleep or night mode. I don't usually take naps, and my Apple Watch automatically enters sleep mode when I go to bed, so I can't test this theory. If anyone reading this blog knows more about this, please let me know.
I tried doing a quick search to see if anyone had experimented with tracking naps, but I couldn't find anyone who had written about it. If I do ever take a nap, I'll check the Apple healthcare data and see if it's automatically recorded. If it's not, I'll manually add the data and see what happens.
Or maybe, I should just ask Apple Support about this?
My Experience Living Without AutoSleep for a While
With all that in mind, I decided to take a break from AutoSleep. I deleted the app and spent about a week without it.
As expected, my life didn't change whether I had AutoSleep or not. Sleep tracking with the Apple healthcare app was more than enough.
If anything, I feel my quality of life has improved now that I no longer have to deal with the stress of AutoSleep's overly sensitive sleep tracking and the odd issues it sometimes caused. Like, for example, "I slept for 8 hours, but it's only registering 4 hours…"
When it comes to sleep tracking during movie viewing, that obviously disappeared too. So, I no longer have to make those adjustments, which is a relief.
Regarding battery consumption, it varies about 13% to 17% overnight. It doesn't seem to have changed much. The same amount of data is still being collected, so either AutoSleep's monitoring wasn't using much battery, or it's just interpreting the data differently.
Conclusion
In conclusion, I personally don't need AutoSleep. The standard sleep tracking is more than enough. As long as I have a rough idea of how long I'm sleeping and how much of that time is spent in deep sleep, I'm content. There were no major inconveniences. I realized that ever since the standard features started offering sleep analysis, I've been using AutoSleep purely out of habit. It's definitely something I need to reflect on.
Of course, using a sleep-focused app like AutoSleep may have its advantages, like possibly more accurate data analysis. If you're someone who wants to know the details, you might find greater satisfaction in using AutoSleep.
Thank you so much for reading this far!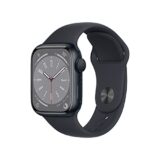 Apple Watch Series 8 [GPS 41mm] Smart Watch w/Midnight Aluminum Case with Midnight Sport Band - S/M. Fitness Tracker, Blood Oxygen & ECG Apps, Always-On Retina Display, Water Resistant
AppleWatchSeries8featuresadvancedhealthsensorsandapps,soyoucantakeanECG,measureheartrateandbloodoxygen,andtracktemperaturechangesforadvancedinsightsintoyourmens...